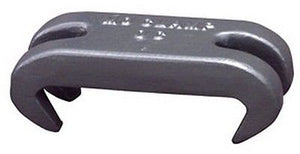 #4120 Double Claw Hook. Free Shipping
Use as an accessory with draw bars or chain. Use a pair with Triangle or Oval Loop as a chain sorter, double hook, or bumper hook. Designed for use with ⅜" chain.
Overall Length: 5" (127 mm)
Weight: 2 lbs (.91 kg)
Capacity: 6 tons (5,443 kg)
Heat Treated Steel. Made in the U.S.A.