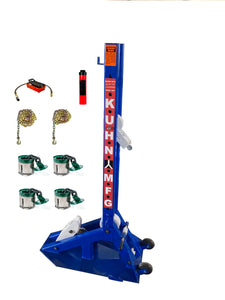 The Original Kuhn Power Pull - Pulling Post with Anchor Pots- Made In USA.
KUHN CT-Z Power Pull Frame Machine
The KUHN CT-Z is the industry standard, all other pull towers fall short of quality of materials and manufacture. 
Ease of use, height adjustment 
Continuous pulling via the  Locking Dog that locks on half or full lengths of chain then disengages as a new pull begins. 
10 Ton 10 Inch stroke Piston
Pins are 3/4" heat treated 4140 alloy for strength and longevity.
With over 45 years of field proven use the KUHN CT-Z Power Pull  was designed during the height of full framed vehicles when most all pulls were heavy pulls.
Made In the USA
Estimated delivery dates are automatically generated by ebay and are not guaranteed neither by us or ebay.
If you need more anchor pots send us a message, we will create a listing with the quantity you want and send you the link. $65.00 per pot
Please provide a business address only.
Includes:
10 Ton 10" Ram, Air Hydraulic Foot Pump, Hose and Coupler
1 ea. 10'x 3/8" GR 70 Chain with Hook
1 ea.  6' x 3/8" GR 70 Chain with Hook
4 Anchor pots (pots color may vary from green to blue)